Skip to Content
Hardwood Flooring in Mobile, AL
If you are looking to bring your home a warm and welcoming feel with your flooring, hardwood is the perfect option. Low maintenance after installation is one of the many benefits that come along with this classic choice for your flooring needs. Wade Distributors, Inc offers professional measuring and installation. We can also help by removing the old flooring in your home to get ready for installation.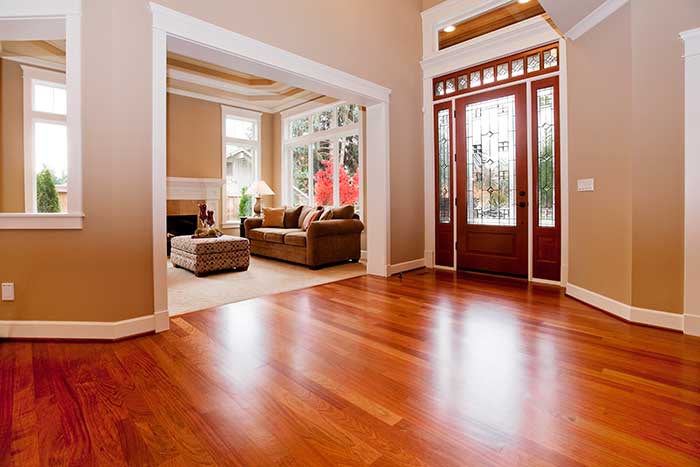 Benefits of Hardwood Flooring
There are many things to consider when choosing to go with the long-lasting, low-maintenance option of hardwood flooring during your remodel. These options can help you out when designing the rest of the room and remodel. Here are some things that you should consider before making your final decision on flooring:
Color: You have a rainbow of woods to choose from when going with hardwood floor. You have very light-colored options that will help bring warmth and brightness to the room or dark wood that will add elegance in a more traditional sense. You can use these color choices as the base for your new style and design for your entire home.
Character: The style and size of grain chosen for your new hardwood flooring options give the room and home character unto itself. Moderate grain gives you a sense of traditional hardwoods which add age to the room, while small grain variations offer you a modern take on hardwood flooring. You can also go rustic with dramatic movements in the wood's grain.
Construction: Wade Distributors, Inc offers two separate ways to get your new hardwood floors. Solid planks use a single piece of wood that helps floors last for years after installation.  Engineered planks use several layers in their construction. They are made to withstand higher levels of humidity, allowing them to be installed on concrete slabs where solid woods can't go.
You should also consider the type of finish that you would like for the room. You can go from glossy to matte with all sorts of textures to choose in between. Our staff at Wade Distributors, Inc are happy to help walk you through the many different hardwood flooring options we carry.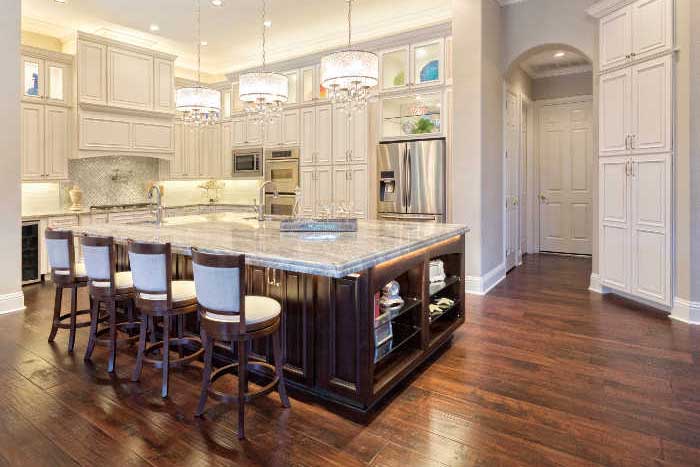 Care & Maintenance of Hardwood Flooring
Wade Distributors, Inc carries all the options available from Shaw Hardwood Flooring. Their no-wax care, DuraShield finishes help protect your new floors from your home's usual suspects of stains: coffee, acetone, cigarette marks, markers, and paint. Following through with some simple maintenance techniques will help your floor last for a lifetime.
Sweep, dust or vacuum the floor regularly for simple upkeep.
Use a damp cloth when cleaning up spills as soon as possible.
Use protective mats at all entry and exit points to curb the spread of dirt, oil, asphalt and other items that could be tracked into the room.
Avoid using sharp objects such as knives or scissors as they can cause permanent damage.
Use floor protectors on large, heavy furniture that you may place within the room.
Think about your shoe choice when walking on the floors. Cleats and fine point heels can damage the floors. Long pet nails can also scratch the floor surface, so be sure to keep an eye on these as well.
Use tools such as a dolly when moving furniture and never drag heavy items across hardwood floors.
You should also avoid using oil-based and abrasive cleaning solutions, steel wool and scouring powders. These items can damage the floor beyond repair. Mopping the floor isn't recommended either as the water can soak in and warp the floor.  Following these simple care tasks will help your hardwood flooring last much longer.
Installation of Hardwood Flooring
Installation is a breeze for the professionals at Wade Distributors, Inc. We do professional measuring to ensure that we use the correct amount of wood to keep material costs down.  Here are some things that you can do to help prepare for our installation services:
We are more than happy to remove your previous flooring, but if not, make sure that you do a good job at fully removing the previous floor.
When you are having the previous flooring removed, be sure to measure and check door frames to ensure that the new hardwood flooring won't butt up against doors in the existing frames.
Make sure that all furniture is removed from the room.
If you plan to paint the room in which you are having floored, try to do this first to avoid accidental spills getting on your new flooring.
During the installation, there are many things our professional staff will take care of for you. We will test for moisture control. This helps to be sure that your floors do not buckle or develop gaps later. As well, it's always good to call ahead and make sure there isn't anything special we would need you to do to prepare for our arrival when installing your new hardwood floors.
Request Your Free Estimate